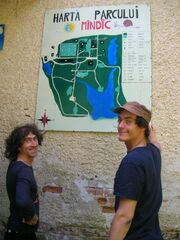 The map was created in Space Camp 2011, based on an old map, adventurers observations and a GPS. A big hand-made version of it was put in front of the villa. It gives the name of the buildings, the location of toilets and garbage collecting points that were created.
It has been added to OpenStreetMap. You can find it here.
And here is a PNG version of it. Feel free to download or print it.